Automate cell counting & determine cell viability.
Even in a microtiter plate.
The Cell Counter Vi-CELL BLU uses only 200 μl of cell suspension and lets you switch between carousel and microtiter plates. How long a measurement takes? Two minutes.
If you use Trypan Blue staining to determine cell count, cell vitality and cell viability, this cell counter will open your eyes. Its worldwide unique property to enable switching between a 24-position sample carousel and a 96-well microtiter plate considerably simplifies Trypan Blue cell counting. No matter whether your sample throughput is low or high, you are sure to benefit from this cell counter.
You work with small cell cultures and do not want to waste them on high volume measurements? The Vi-CELL BLU requires only 200 μl of cell suspension. You work with particularly sensitive or clumping/agglomerating cells? Thanks to the optimized liquid handling and mixing features you will always get the best results, from sampling to Trypan Blue staining to measurement. The latter takes only two minutes and can be documented in up to 100 images per measurement. Sounds interesting? Ask for more information and send us your cell counting questions.
Determine cell concentration and cell viability more efficiently than ever:
Fully automated sample preparation and cell counting
Only 200 μl sample volume
Easy reloading of the 24-position carousel during a run
Easy to switch to 96-well microtiter plates, for even more throughput
40% smaller footprint than the Vi-CELL XR, thanks to integrated PC & touch screen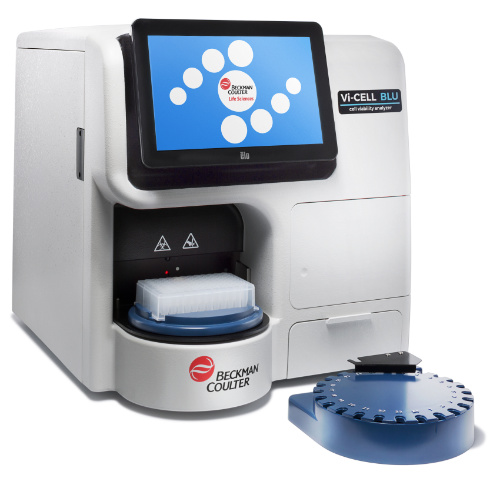 Multiple measuring and evaluation options
The Vi-CELL BLU lets you measure cells in a range from 2 μm to 50 μm, so you can easily capture small cells and, for example, yeasts. Your measurement result can be displayed as the count, concentration or size distribution. In addition, cell vitality can be presented as absolute numbers, in percent or as cells/ml. You will also be informed about the number and the distribution of aggregates.
The automated Trypan Blue method is suitable for:
Bioprocess monitoring
Biopharmaceutical applications
Academic research
This is merely a selection of possible applications. You are interested in a specific application area where a cell counter could help or are currently facing a particular challenge? Then simply ask for more information, using the comment field to tell us what your application is.