Zellzählung automatisieren & Zellviabilität bestimmen. Sogar in der Mikrotiterplatte.
Mit dem Cell Counter Vi-CELL BLU verbrauchen Sie nur 200 μl Zellsuspension und wechseln nach Belieben zwischen Karussell und Mikrotiterplatten. Und die Messzeit? Zwei Minuten.
Wenn Sie die Trypanblau-Färbung zur Bestimmung der Zellzahl, Zellvitalität und -viabilität nutzen, wird Ihnen dieser Cell Counter die Augen öffnen. Der weltweit einzigartige Wechsel zwischen einem Probenkarussell mit 24 Positionen und einer 96-Well-Mikrotiterplatte vereinfacht die Trypanblau-Zellzählung signifikant. Egal, ob Sie geringen oder hohen Probendurchsatz haben – von diesem Zellzähler werden Sie profitieren.
Sie arbeiten mit kleinen Zellkulturen und wollen diese nicht durch großvolumige Messungen verschwenden? Der Vi-CELL BLU benötigt nur 200 µl Zellsuspension. Sie haben besonders empfindliche oder klumpende/agglomerierende Zellen? Dank optimierter Liquid-Handling- und Mischfunktionen erzielen Sie beste Ergebnisse von der Probennahme bis zur Trypanblau-Färbung und Messung. Letztere dauert nur zwei Minuten und kann in bis zu 100 Bildern pro Messung dokumentiert werden. Neugierig? Fordern Sie einfach weitere Informationen an und stellen uns Ihre Fragen zur Zellzählung.
Bestimmen Sie Zellkonzentration und Zellviabilität effizienter denn je:
Voll automatisierte Probenvorbereitung und Zellzählung
Nur 200 μl Probenvolumen erforderlich
Einfaches Nachladen des 24er-Probenkarussells während des Laufs
Einfacher Wechsel zu 96-Well-Mikrotiterplatten für noch mehr Durchsatz
40 % Platzersparnis im Vergleich zum Vi-CELL XR dank integriertem PC und Touchscreen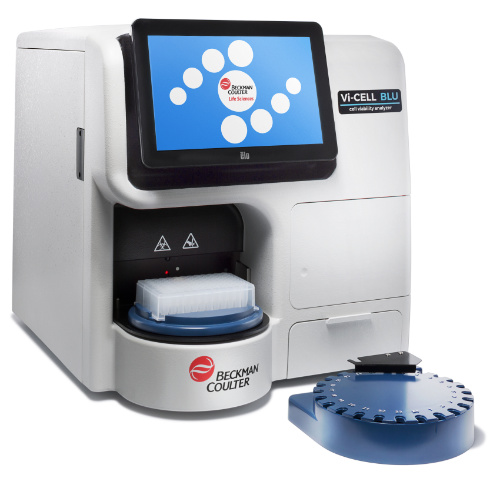 Vielfältige Mess- und Auswertemöglichkeiten
Mit dem Vi-CELL BLU messen Sie Zellen in einem Messbereich von 2 µm bis 50 µm. So erfassen Sie problemlos sowohl kleine Zellen als auch z. B. Hefen. Ihr Messergebnis wird wahlweise als Anzahl, Konzentration oder Größenverteilung dargestellt. Darüber hinaus können Sie die Zellvitalität absolut, in Prozent oder als Zellen/ml ermitteln. Auch über die Aggregatsanzahl und -verteilung erhalten Sie detaillierte Auskunft.
Die automatisierte Trypanblau-Methode eignet sich für:
Bioprozess-Monitoring
Biopharmazeutische Anwendungen
Akademische Forschung
Dies ist nur eine Auswahl der möglichen Anwendungsgebiete. Sie interessieren sich für ein spezielles Anwendungsgebiet, bei dem Ihnen ein Cell Counter helfen kann oder bei dem Sie aktuell bereits vor einer Herausforderung stehen? Dann fordern Sie einfach weitere Informationen an und teilen uns im Kommentarfeld Ihre konkrete Applikation mit.

NOT ALL PRODUCTS ARE AVAILABLE IN ALL COUNTRIES. 
PRODUCT AVAILABILITY AND REGULATORY STATUS DEPENDS ON COUNTRY REGISTRATION PER APPLICABLE REGULATIONS
The listed regulatory status for products correspond to one of the below:
IVD: In Vitro Diagnostic Products. These products are labeled "For In Vitro Diagnostic Use."
ASR: Analyte Specific Reagents. These reagents are labeled "Analyte Specific Reagents. Analytical and performance characteristics are not established."
CE: Products intended for in vitro diagnostic use and conforming to European Directive (98/79/EC). (Note: Devices may be CE marked to other directives than (98/79/EC)
RUO: Research Use Only. These products are labeled "For Research Use Only. Not for use in diagnostic procedures."
LUO: Laboratory Use Only. These products are labeled "For Laboratory Use Only."
No Regulatory Status: Non-Medical Device or non-regulated articles. Not for use in diagnostic or therapeutic procedures.
© 2000 - 2023 Beckman Coulter, Inc. All rights reserved.