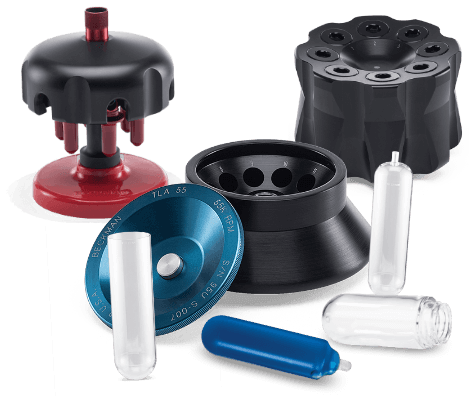 How to select the right centrifuge tube
Choosing the ideal tube for a specific centrifugation task is a science in itself. The easy solution is to ask Beckman Coulter.
Do you sometimes find yourself at a loss when selecting a suitable centrifuge tube? The right size might be easy to determine but the choice of material is trickier. Does the tube have to be chemically resistant? Should it have a cap or not? Does it need to be sterile or DNA-free? What about compatibility with rotors? With over 70 years of experience in centrifugation we are well aware of the typical challenges our customers in research and industry face. We offer the right tube for just about any application. Do not hesitate to ask us. We'll get into full swing for your success.
Centrifuge tubes and rotors for each and every need
Beckman Coulter offers you more than
Centrifuge tubes & bottles
Whichever type of centrifuge tube you are looking for, we have the perfect one for you.
Using the right labware is pivotal for successful centrifuging. Sample volume, chemical resistance or the required centrifugal force – all these parameters influence the success of your centrifugations. We'll support you from A to Z with a huge selection of labware in conjunction with our various centrifuges.
Need help to choose the right rotor, tube or adapter?
Sterile/Certified Free tubes (4-100 ml)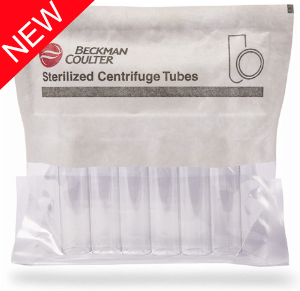 Certified Free centrifuge tubes are free of any detectable DNA, DNase, RNase, PCR inhibitors and endotoxins. They are double-packaged for contamination-free cleanroom transfer. Thanks to ethylene oxide sterilization, our sterile centrifuge tubes are also completely free of viable microorganisms – a prerequisite for many biologically critical applications.
Sealable, pierceable tubes (1-100 ml)
OptiSeal (3.3 – 36.2 ml):

Dome-top or bell-top style disposable centrifuge tubes with plugs and spacers for tight and safe closure during centrifugation.
Quick-Seal (1.0 – 100 ml):

Heat-sealed centrifuge tubes for use in swing-out, vertical, near-vertical and most fixed-angle rotors. These tubes are particularly suitable for radioactive and pathogenic samples.
Open tubes (0.175-100 ml)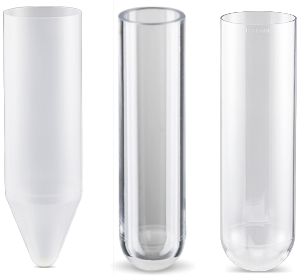 Thin-walled, disposable centrifuge tubes and thick-walled, re-usable tubes that allow sample loading and retrieval. The tubes are available in a variety of materials and volumes.
Sealable bottles and containers (10-2250 ml)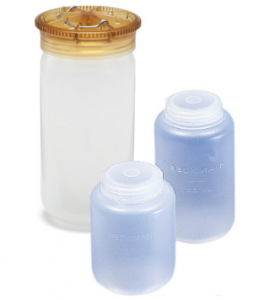 Centrifuge bottles and tubes made of various materials for high-volume harvesting, pelleting, protein purification, DNA isolation or sample storage.
Harvest Liners (250-2250 ml)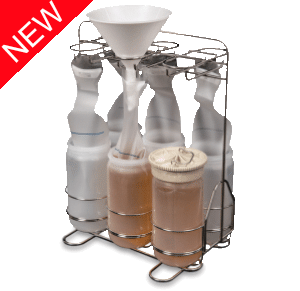 Harvest Liners are the ideal solution for extracting cells, bacteria or yeasts. The liners minimize the risk of contamination and spillage during your harvesting process. They also save a lot of space when freezing a sample as there is no need to freeze the entire bottle. We now also offer sterile Harvest Liners.
Sealable, non-pierceable tubes (1.5-100 ml)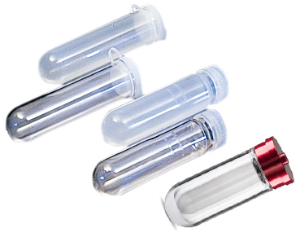 Sealable tubes are available with different locking systems depending on the application. They range from conventional screw caps and snap closures to complete closure systems and are available from us in different materials.
Single-use labware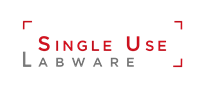 Whether you need to enhance safety, save space or make cell harvesting more efficient, our single-use consumables will help you optimize your lab processes. These accessories are, of course, also available "Certified Free" and sterile, so you can be sure that your samples are not biologically contaminated by the labware you use.
Adapters for various tube types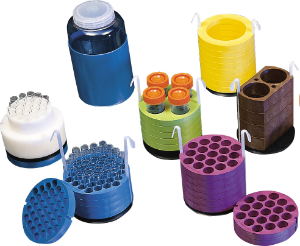 Our more than 310 different adapters for fixed and swing-bucket rotors give you maximum flexibility for your work routines in the lab. They are suitable for various types of centrifuge tubes. Even for cell culture bottles you will find suitable adapters.

NOT ALL PRODUCTS ARE AVAILABLE IN ALL COUNTRIES.
PRODUCT AVAILABILITY AND REGULATORY STATUS DEPENDS ON COUNTRY REGISTRATION PER APPLICABLE REGULATIONS
The listed regulatory status for products correspond to one of the below:
IVD: In Vitro Diagnostic Products. These products are labeled "For In Vitro Diagnostic Use."
ASR: Analyte Specific Reagents. These reagents are labeled "Analyte Specific Reagents. Analytical and performance characteristics are not established."
CE: Products intended for in vitro diagnostic use and conforming to European Directive (98/79/EC). (Note: Devices may be CE marked to other directives than (98/79/EC)
RUO: Research Use Only. These products are labeled "For Research Use Only. Not for use in diagnostic procedures."
LUO: Laboratory Use Only. These products are labeled "For Laboratory Use Only."
No Regulatory Status: Non-Medical Device or non-regulated articles. Not for use in diagnostic or therapeutic procedures.
© 2000-2023 Beckman Coulter, Inc. All rights reserved. Beckman Coulter, the stylized logo, and the Beckman Coulter product and service marks mentioned herein are trademarks or registered trademarks of Beckman Coulter, Inc. in the United States and other countries. All other trademarks are the property of their respective owners.