Contact-free ultrasound transfer of liquids down to 2.5 nanoliters – the Echo Liquid Handler
Revolutionary assay miniaturization lets you automate your research with high precision, speed and free of contamination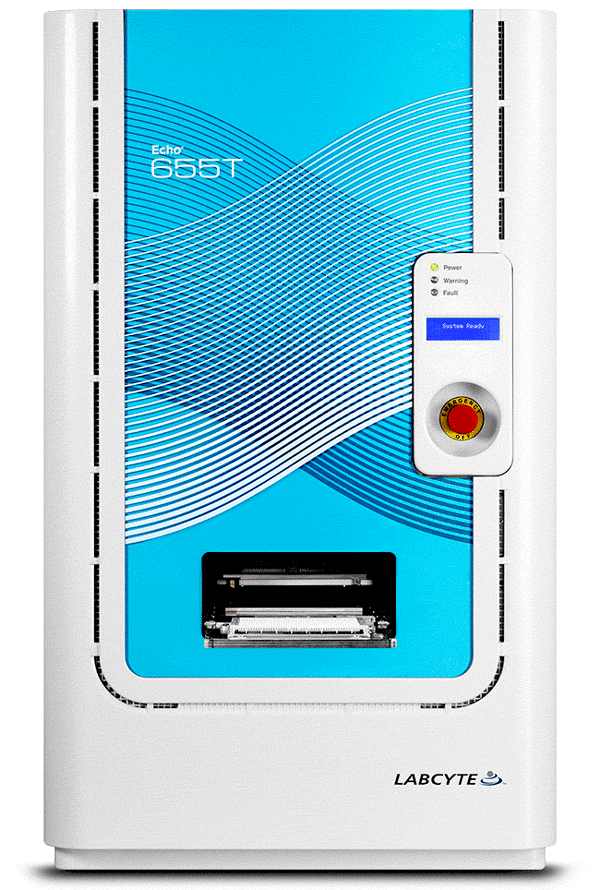 The most efficient and precise liquid handling technology for research
Echo ADE (acoustic droplet ejection) technology has revolutionized the liquid handling industry thanks to enabling the fast and highly precise transfer of liquids by acoustic energy without any physical contact. Acoustic pulses are used to dispense droplets of precise volume from the source plate to the target plate positioned above it.
Whether you are working in the development or management of drugs, in genomics, synthetic biology, proteomics, functional screening or other research areas, the acoustic droplet ejection technology will help you generate more reliable scientific results and save reagent costs.
The advantages of the Echo Acoustic Liquid Handler:
Precise and flexible nanoliter transfers, from any position, to any position
No risk of cross-contamination thanks to touchless sample handling
Up to 100-fold cost savings¹ through assay miniaturization
High throughput of up to 750,000 samples per day
Integration into Access robot system possible
"As it sounds in, so it drops out …"
How Echo Acoustic Liquid Handling works
The heart of the acoustic droplet emission is the transducer. It focuses acoustic ultrasonic energy onto the meniscus of the sample to be transferred, in order to eject a stream of tiny droplets (2.5 nL/25 nL depending on the model) from the wells of the source microtiter plate and deliver them precisely to a target plate positioned, upside down, above it. It is possible to use plates with 384, 1,536 or 3,456 wells, but also slides and microfluidic systems. Thanks to dynamic liquid analysis, the Echo Liquid Handler can adapt to different types of fluid in real time, with no operator intervention required. There is no need for manual calibration.
Revolutionize these applications with the Echo series:
Drug discovery and development
API management
Genome research and sequencing
Personalized medicine and functional screening
Cancer research
Synthetic biology
Proteomics
Unique automation of your sample management workflows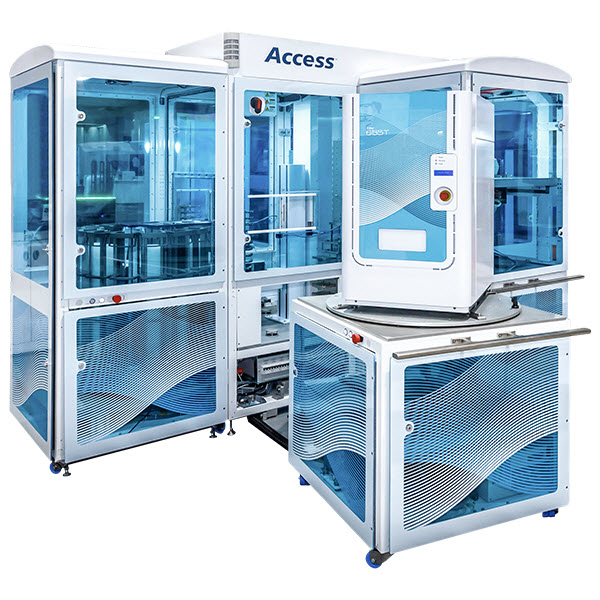 To fully automate sample management workflow, the Echo Acoustic Liquid Handlers can be integrated into the Access robot system, which was specially designed for this purpose. The modular system allows the integration of 1 to 12 instruments to provide a complete, user-friendly solution for sample management, from storage to the assays. Air conditioning within the robotic system is also available as an option. And with Brooks Life Sciences' acoustic sample tubes, samples can be dispensed directly from the sample tubes, ensuring maximum sample integrity.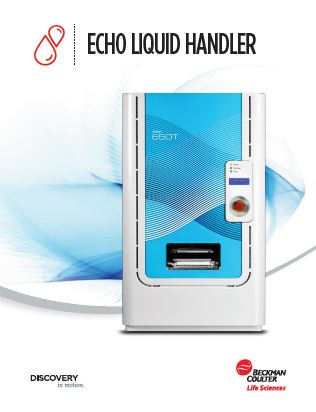 Find all the applications, facts and figures in the Echo brochure
Find out more about direct dilutions, "any-well-to-any-well" transfers and the advantages of assay miniaturization in various exciting areas of research. Download the free Echo brochure.
¹ For some genomics applications, assay miniaturization has led to 100-fold cost savings

NOT ALL PRODUCTS ARE AVAILABLE IN ALL COUNTRIES.
PRODUCT AVAILABILITY AND REGULATORY STATUS DEPENDS ON COUNTRY REGISTRATION PER APPLICABLE REGULATIONS
The listed regulatory status for products correspond to one of the below:
IVD: In Vitro Diagnostic Products. These products are labeled "For In Vitro Diagnostic Use."
ASR: Analyte Specific Reagents. These reagents are labeled "Analyte Specific Reagents. Analytical and performance characteristics are not established."
CE: Products intended for in vitro diagnostic use and conforming to European Directive (98/79/EC). (Note: Devices may be CE marked to other directives than (98/79/EC)
RUO: Research Use Only. These products are labeled "For Research Use Only. Not for use in diagnostic procedures."
LUO: Laboratory Use Only. These products are labeled "For Laboratory Use Only."
No Regulatory Status: Non-Medical Device or non-regulated articles. Not for use in diagnostic or therapeutic procedures.
© 2000-2023 Beckman Coulter, Inc. All rights reserved. Beckman Coulter, the stylized logo, and the Beckman Coulter product and service marks mentioned herein are trademarks or registered trademarks of Beckman Coulter, Inc. in the United States and other countries. All other trademarks are the property of their respective owners.