High-end flow cytometer with a small footprint:
For research and clinical laboratories
Up to six lasers and 21 fluorescent detectors give these flow cytometers advanced sensitivity and resolution
Beckman Coulter's benchtop CytoFLEX flow cytometer platform now gives you all the benefits of a top-tier flow cytometer on a small footprint: exceptional sensitivity and resolution. Measuring blood or cultured cells, bacteria, algae, yeasts, microparticles and even nanoparticles poses no challenge for this compact but powerful cytometer in any of its 51 configurations. No matter whether you are conducting research or examining routine samples in clinical diagnostics – we have the right flow cytometer for every application.
These flow cytometers can easily measure up to 21 fluorescences simultaneously, doing so with outstanding sensitivity and reproducibility in six different excitation wavelengths (355 nm, 375 nm, 405 nm, 488 nm, 638 nm, 808 nm). And thanks to unique APD technology, overlapping fluorescence can be compensated more easily than with any other flow cytometer. At speeds of up to 30,000 events per second and with 23 parameters selected, even large cell amounts can be measured rapidly. The CytExpert software lets the user learn to operate this highly flexible flow cytometer safely and successfully in a very short time.
Flow cytometers for research and diagnostics at a glance
Flow cytometer for research

CytoFLEX¹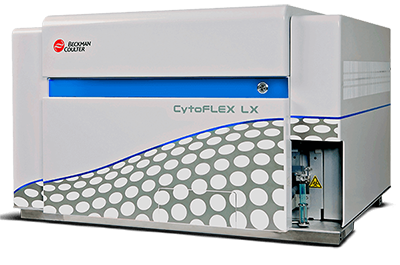 Individually configurable with up to 6 lasers / 21 colours
Easy to learn, easy to operate, easy to maintain
Optional plate loader for 96-well plates
Violet side scatter resolution for particle detection < 80 nm
21 CFR Part 11 compatible software for flow cytometry
NEW: Europe's first 13-colour cytometer for clinical laboratories

DxFLEX²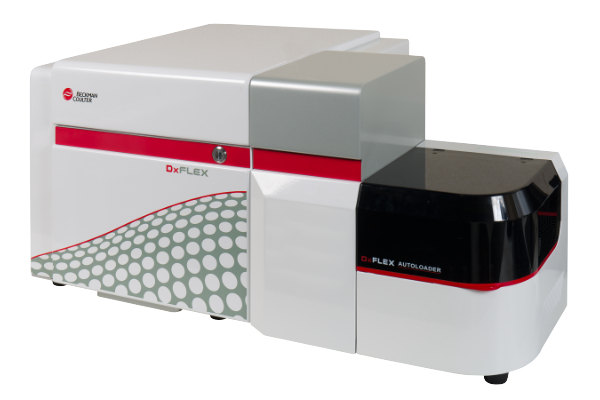 The first CE-IVD certified Flow Cytometer with 13 colours
Equipped with up to 3 lasers
Simplifies routine laboratory procedures
Contributes to the standardization of diagnostics
Autoloader for 32 tubes reduces manual operations³
Easy compensation even with weak fluorescence – thanks to unique APD technology:
Avalanche photodiodes (APD) reduce background noise to a minimum
Greatly simplified compensation of overlapping fluorescence – independent of gain
Simple differentiation between weakly and strongly fluorescent populations
Easier selection of gates and easier calculation of statistics
Beckman Coulter's flow cytometers can be configured to meet the needs of your lab, whether you are performing routine low-complexity analyses, high-complexity analyses or analyses that push the boundaries for flow cytometry.
Join the Resolution
REVOLUTION
Download our free flow cytometry brochures for research and clinical diagnostics now. Learn everything you should know about Beckman Coulter's CytoFLEX and DxFLEX flow cytometers. The brochure also shows you the possible laser and detector configurations.
For clinical diagnostics:


Beckman Coulter has been driving innovation for more than 80 years. We strive to make our flow cytometry technology fit seamlessly into your lab workflow and provide the best user experience. Selecting a Beckman Coulter flow cytometer will give you the best in competence, innovation and quality.
¹ CytoFLEX for research use only (RUO)
² DxFLEX is an IVD device that is only available in countries where regulatory approval has been obtained from local regulatory authorities. Please check with your local sales representative before ordering the product.
³ Autoloader: for research use only

NOT ALL PRODUCTS ARE AVAILABLE IN ALL COUNTRIES.
PRODUCT AVAILABILITY AND REGULATORY STATUS DEPENDS ON COUNTRY REGISTRATION PER APPLICABLE REGULATIONS
The listed regulatory status for products correspond to one of the below:
IVD: In Vitro Diagnostic Products. These products are labeled "For In Vitro Diagnostic Use."
ASR: Analyte Specific Reagents. These reagents are labeled "Analyte Specific Reagents. Analytical and performance characteristics are not established."
CE: Products intended for in vitro diagnostic use and conforming to European Directive (98/79/EC). (Note: Devices may be CE marked to other directives than (98/79/EC)
RUO: Research Use Only. These products are labeled "For Research Use Only. Not for use in diagnostic procedures."
LUO: Laboratory Use Only. These products are labeled "For Laboratory Use Only."
No Regulatory Status: Non-Medical Device or non-regulated articles. Not for use in diagnostic or therapeutic procedures.
© 2000 - 2021 Beckman Coulter, Inc. All rights reserved.