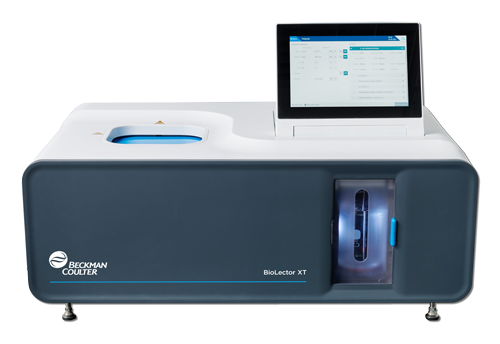 Wie Sie mit Mikro­bio­reaktor­en für Hoch­durch­satz-Fermen­tationen die Bioprozess­entwicklung beschleu­nigen
Bioreaktoren im Mikrotiterplattenformat: automatisierbar, mit Biomasse-, pH- und DO-Monitoring, für Fed-Batch geeignet
Der Scale-up-Prozess ist der Flaschenhals in der Bioprozessentwicklung. Er kostet viel Zeit und verlangsamt den frühen Entwicklungsprozess und damit den Weg zum Endprodukt enorm. Ein Prozess von frühen Screening-Versuchen in Schüttelkolben über die mikrobielle Kultivierung in kleineren Fermentern bis hin zum Produktionsmaßstab kann Tage bis Wochen dauern. Natürlich können Sie die Zeit durch den parallelen Einsatz mehrerer Fermenter reduzieren. Doch hier sind Sie durch den Platz,  personelle Ressourcen und das Budget limitiert. Stellen Sie sich vor, wie aufwendig es wäre, 32 oder gar 48 parallele Fermentationen in größeren Fermentern durchzuführen …
Und nun stellen Sie sich vor, Sie könnten diesen Durchsatz mit nur zwei Stunden Arbeitsaufwand erzielen.
Die BioLector-Mikrobioreaktoren von Beckman Coulter / m2p-labs schaffen genau das. Und helfen Ihnen so, Ihre Bioprozessentwicklung massiv zu beschleunigen. Damit Sie Ihre Arbeitszeit effektiver einsetzen können.
So viele Fermentationen schaffen Sie pro Woche: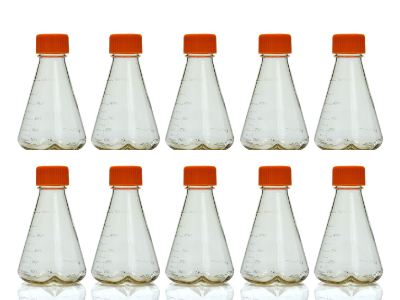 Mit BioLector Mikrobioreaktoren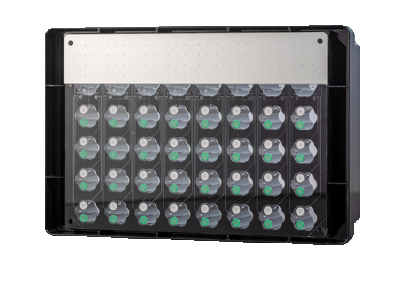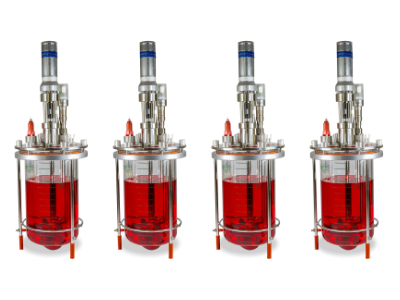 Vorteile der BioLector Mikro­bio­reaktor­en in der mikrobiellen Kultivierung:
Bis zu 48 parallele Ferment­ationen in einer Mikro­titer­platte
Umfassendes Online-Monitoring von Bio­masse (breiter OD-Bereich), Fluoreszenz, DO, pH
NEU: Exakt steuerbare Sauerstoffzufuhr von 0-100 % O₂ dank gasdichtem Deckel*
Für Fed-Batch (anaerob/aerob) geeignet dank well-indivi­dueller pH- & Feeding-Kontrolle*
Automa­tisier­bar für komplexes Experimenten­design (DoE), Proben­nahme und mehr
Der Turbo für Ihre Fermentationen – geeignet für jede Anwendung:
Impfstoff-Entwicklung
Fed-Batch-Entwicklung*
pH-Profiling*
Optimierung der Feeding-Rate*
Medien­screening und -optimierung
Fermentations­parameter-Optimierung
Zell­linien- und Stamm­screening
Synthetische und System­biologie
Anaerobe / aerobe / mikroaerophile Fermentationen
Statistische Versuchs­planung (DoE)
Wachstums­charakter­isierung
Hochdurchsatz-Protein-Expression
Enzym- und Zell­aktivitäts­tests
Funktionelle Genomik
Proteomische Studien
Inhibitions- und Toxizitäts­tests
Qualitäts­kontrolle

NOT ALL PRODUCTS ARE AVAILABLE IN ALL COUNTRIES. 
PRODUCT AVAILABILITY AND REGULATORY STATUS DEPENDS ON COUNTRY REGISTRATION PER APPLICABLE REGULATIONS
The listed regulatory status for products correspond to one of the below:
IVD: In Vitro Diagnostic Products. These products are labeled "For In Vitro Diagnostic Use."
ASR: Analyte Specific Reagents. These reagents are labeled "Analyte Specific Reagents. Analytical and performance characteristics are not established."
CE: Products intended for in vitro diagnostic use and conforming to European Directive (98/79/EC). (Note: Devices may be CE marked to other directives than (98/79/EC)
RUO: Research Use Only. These products are labeled "For Research Use Only. Not for use in diagnostic procedures."
LUO: Laboratory Use Only. These products are labeled "For Laboratory Use Only."
No Regulatory Status: Non-Medical Device or non-regulated articles. Not for use in diagnostic or therapeutic procedures.
© 2000 - 2023 Beckman Coulter, Inc. All rights reserved.