Beschleunigen Sie Ihre Antikörper-Workflows mit dem Valita Titer Assay: Quantifizieren Sie IgG in Minuten, nicht in Stunden

Wir helfen Ihnen, die produktivsten Klone aus Tausenden von Klonen zu identifizieren
Der Valita Titer Assay ist ein Meilenstein in der IgG-Quantifizierung. Dieser plattenbasierte 96- und 384-Well-Mikroplatten-Assay bietet eine schnelle und kostengünstige Methode zur Messung von IgG-Konzentrationen. Seine Kompatibilität mit verschiedenen Plattenlesegeräten mit Fluoreszenzpolarisationsmodul macht ihn zu einem herausragenden Produkt in der Branche.
Und das Beste daran? Keine mühsame Probenvorbereitung, keine zusätzlichen Reagenzien oder Waschschritte mehr. Mit dem Valita Titer Assay können Sie IgG direkt in Zellsuspensionen (bis zu 15 Mio. Zellen/ml) messen und so wertvolle Zeit und Mühe sparen. Einfach hinzufügen, mischen und ablesen, und Sie erhalten die Ergebnisse in weniger als 15 Minuten. Dieser Hochgeschwindigkeits-Assay ist nicht nur einfach zu bedienen, sondern auch automatisierungsfreundlich. Mit nur drei einfachen Schritten in Standardplatten können Sie schnell genaue Ergebnisse erzielen.
Und machen Sie sich keine Sorgen, dass Sie Ihr Budget sprengen – der Valita Titer Assay bietet erschwingliche Preise, die die der Konkurrenz übertreffen. Verabschieden Sie sich von langwierigen und mühsamen Techniken wie ELISA und Protein-A-HPLC. Der Valita Titer Assay gilt als die schnellste und einfachste IgG-Quantifizierungsmethode der Branche. Ganz gleich, ob Sie eine Produktivitätseinstufung von Klonen, eine Qualitätskontrolle der Transfektion oder eine Prozessoptimierung durchführen müssen, dieser Assay ist die richtige Wahl.
igG-Quantifizierung leicht gemacht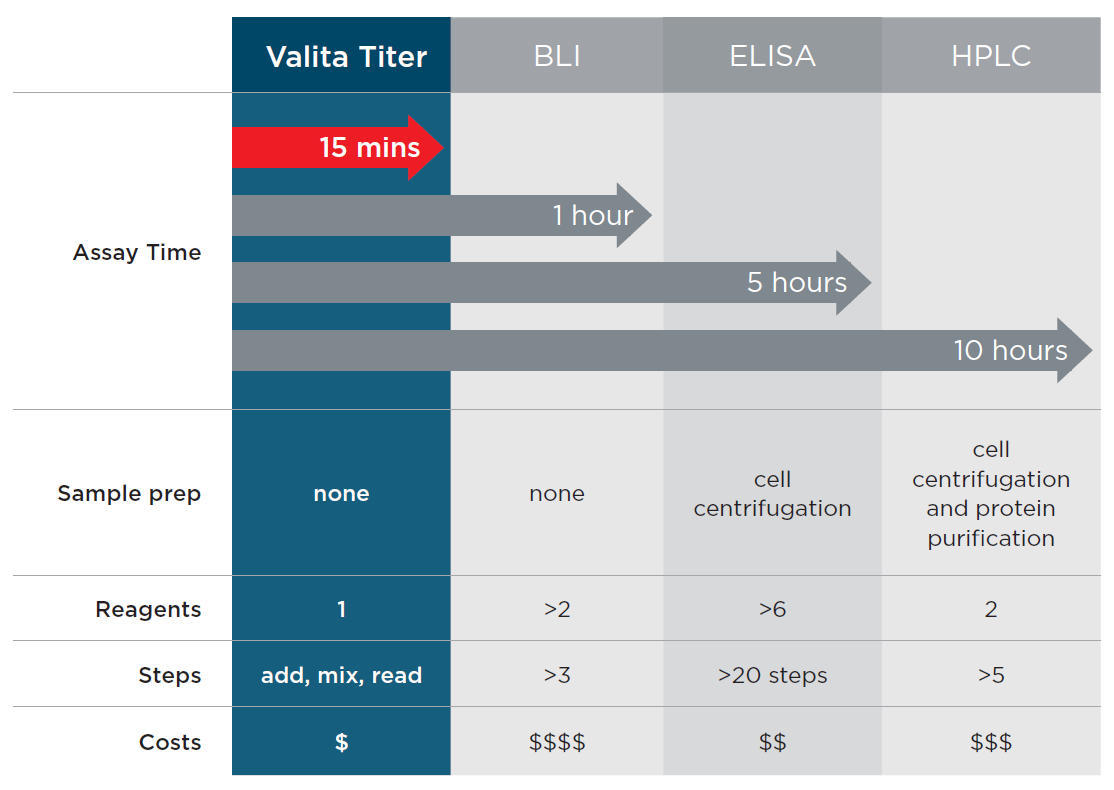 Revolutionieren Sie Ihre IgG-Messung mit Valita Titer Assay!
Automatisieren mit Leichtigkeit: Nur 3 einfache Schritte in Standardplatten. Unschlagbare Preise, die die Konkurrenz übertreffen.
Am schnellsten und einfachsten: Verabschieden Sie sich von ELISA und Protein-A-HPLC. Erzielen Sie präzise Ergebnisse, die mit Industriestandards korrelieren.
Vielseitig & robust: Bestimmt sicher 2,5 mg/L bis 2000 mg/L. Validiert für Human- und Kaninchen-IgGs, alle Fc-haltigen Formate.
Beschleunigen Sie Ihre Antikörper-Forschung und -Entwicklung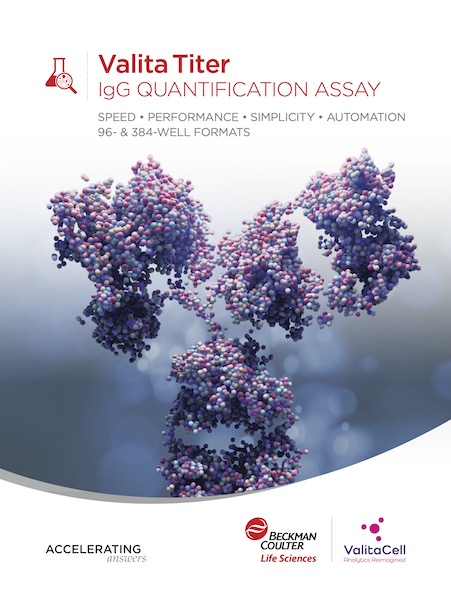 Entdecken Sie, wie der Valita Titer Assay Ihre Forschungs- und Entwicklungsprozesse beschleunigen kann. Ganz gleich, ob Sie mit Klon-Ranking, Transfektionsstudien, der Charakterisierung stabiler Pools oder der Prozessoptimierung befasst sind – dieser schnelle und präzise Assay kann Ihren Arbeitsablauf revolutionieren und erhebliche Vorteile in Bezug auf Produktivität und Kosteneffizienz bringen. Verpassen Sie nicht die Gelegenheit, Ihre Experimente zu optimieren und mit dem Valita Titer Assay in Rekordzeit Ergebnisse zu erzielen.
Nur für Forschungszwecke. Nicht zur Verwendung in diagnostischen Verfahren.

NOT ALL PRODUCTS ARE AVAILABLE IN ALL COUNTRIES. 
PRODUCT AVAILABILITY AND REGULATORY STATUS DEPENDS ON COUNTRY REGISTRATION PER APPLICABLE REGULATIONS
The listed regulatory status for products correspond to one of the below:
IVD: In Vitro Diagnostic Products. These products are labeled "For In Vitro Diagnostic Use."
ASR: Analyte Specific Reagents. These reagents are labeled "Analyte Specific Reagents. Analytical and performance characteristics are not established."
CE: Products intended for in vitro diagnostic use and conforming to European Directive (98/79/EC). (Note: Devices may be CE marked to other directives than (98/79/EC)
RUO: Research Use Only. These products are labeled "For Research Use Only. Not for use in diagnostic procedures."
LUO: Laboratory Use Only. These products are labeled "For Laboratory Use Only."
No Regulatory Status: Non-Medical Device or non-regulated articles. Not for use in diagnostic or therapeutic procedures.
© 2000 - 2023 Beckman Coulter, Inc. All rights reserved.