Der Bioanalyzer, der Ihre Zellkulturanalyse revolutioniert: Stoffwechselaktivität messen in Sekundenschnelle
Eine Messung, neun Parameter – der Vi-CELL MetaFLEX Biochemistry Analyzer braucht dafür nur 35 Sekunden und 65 µl Probenvolumen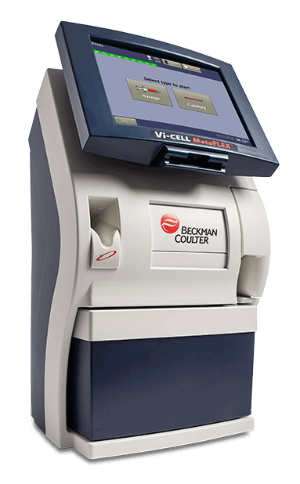 Schnelle und zuverlässige Analyse von Bioanalyten in Zellkulturmedien
Stellen Sie kontinuierliches Wachstum Ihrer Zellkultur sicher: In nur einer einzigen, unübertroffen schnellen Messung bestimmt der neue Vi-CELL MetaFLEX wichtige Stoffwechselparameter wie pH, pO₂, pCO₂, Glukose, Laktat und Elektrolyte. Dabei verbraucht er weniger Zellsuspension als jeder andere Biochemistry Analyzer im Markt und schont so Ihre wertvollen Ressourcen. Durch seinen geringen Wartungsaufwand, höchste Zuverlässigkeit und seine erstaunlich kleine Standfläche ist dieser Bioanalyzer eine optimale Lösung für die schnelle, einfache und zuverlässige Messung Ihrer Proben. Ideal für Forschung, Herstellung und Qualitätskontrolle.
Die Vorteile des Vi-CELL MetaFLEX Bioanalyzers:
Spart Zeit: nur 35 Sekunden für die Messung aller Parameter
Schont Ihre Ressourcen: verbraucht nur 65 µl Probenvolumen
Rund um die Uhr einsatzbereit: 23,5 h Betriebszeit am Tag
Zuverlässig und sehr einfach zu warten
Stoffwechselaktivität messen leicht gemacht – alle Parameter in nur einer Messung: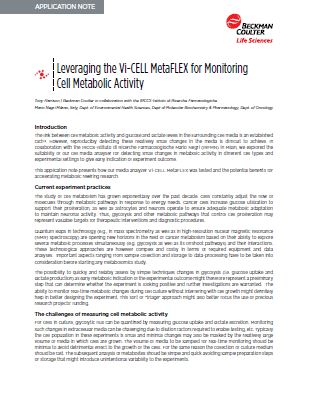 Monitoring der Zellstoffwechselaktivität mit dem Vi-CELL MetaFLEX Biochemistry Analyzer
In dieser Application Note erfahren Sie, wie mit dem Bioanalyzer selbst kleine Veränderungen in der Stoffwechselaktivität verschiedener Zelltypen und bei unterschiedlichen Versuchsbedingungen nachgewiesen und für das Zellkultur-Monitoring genutzt werden können.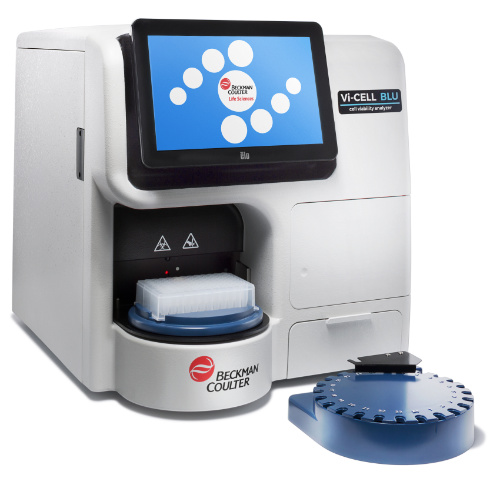 Die perfekte Ergänzung: Automatische Zellzählung und Zellviabilitätsmessung
Wenn Sie nicht nur Stoffwechselprodukte, sondern auch Zellzahl, Zellvitalität und -viabilität bestimmen wollen, wird Ihnen der Cell Counter Vi-CELL BLU die Augen öffnen. Dank vollautomatischer Trypanblau-Zellzählung von bis zu 96 Proben parallel vereinfacht er die Abläufe in Ihrem Zellkulturlabor enorm.

NOT ALL PRODUCTS ARE AVAILABLE IN ALL COUNTRIES. 
PRODUCT AVAILABILITY AND REGULATORY STATUS DEPENDS ON COUNTRY REGISTRATION PER APPLICABLE REGULATIONS
The listed regulatory status for products correspond to one of the below:
IVD: In Vitro Diagnostic Products. These products are labeled "For In Vitro Diagnostic Use."
ASR: Analyte Specific Reagents. These reagents are labeled "Analyte Specific Reagents. Analytical and performance characteristics are not established."
CE: Products intended for in vitro diagnostic use and conforming to European Directive (98/79/EC). (Note: Devices may be CE marked to other directives than (98/79/EC)
RUO: Research Use Only. These products are labeled "For Research Use Only. Not for use in diagnostic procedures."
LUO: Laboratory Use Only. These products are labeled "For Laboratory Use Only."
No Regulatory Status: Non-Medical Device or non-regulated articles. Not for use in diagnostic or therapeutic procedures.
© 2000 - 2023 Beckman Coulter, Inc. All rights reserved.